This season is the time for over indulgence I think, lol The tree is up, lights outside are lit up, stockings hung, decorations underway...but no where near getting all the things on my Christmas list. Can you believe my 7 year old son wants an Ipod Touch?. Yes. He's 7. And no, I can't talk him into a BlackBerry..He wants to face time with his friends....pfft. Anyway...over indulgence is good right? Once a year? So why not also have more holiday sets?!!
Most of you know that I don't do Hello Kitty, lol. But I wanted to do a set for two of my besties and they just happen to love the lil kitty, so I gave it a shot. Turns out, they liked it! Hey, I did good! And lucky for all the rest of you HK fans, they have allowed me to share with you. Big thanks to Wendy and Ria:)
Also made a set for another of my dear bff's, Jaydee. This one is more her style (and mine) and again she has allowed me to share!
And although I'm posting these, since they were customs, I'm shamelessly going to make a plug for donations..hey, this BlackBerry Girl needs coffee...especially the Starbucks (since I don't have Timmies) variety, lol! And I also need to some how pay for that Ipod Touch. Well at least Ebay has some good deals. Ugh :) ) Ha Ha.
I've made some walls to go with the sets, and you can find even more great ones on Julie's blog
Luv My Evo
. Thanks girl, they are fab!
Well here they are, Hello X-Mas and Elegant X-Mas, and always, Enjoy:)
Hello X-Mas
Made this wallpaper to go with the set...can be found on the wallpaper
page, along with one more:)
Partly Cloudyn
Sleet
Clearn
Cloudy
Discharging
Charging
Hello X-Mas BW
Hello X-Mas Battex
Elegant X-Mas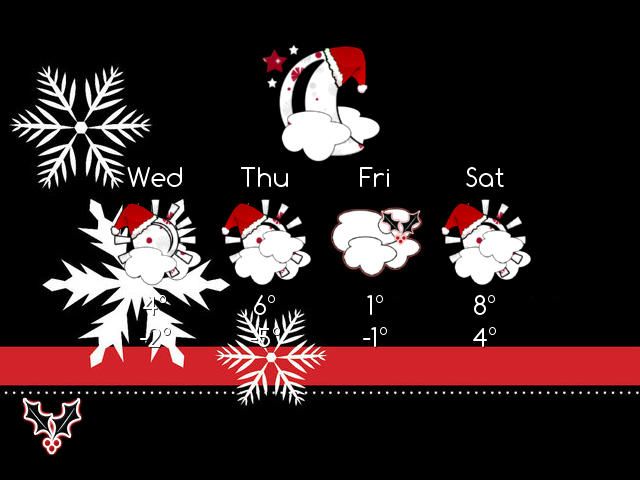 Thank-You Julie for the awesome walls! This one goes perfect with the set!!
Go check out her blog for more awesome ones!
Snow
Clear
Discharing
Charging